Why you need a Dry Robe!
Dry robes have become increasingly popular due to their versatility and comfort. In this blog post, we will explore everything you need to know about dry robes, including their benefits, key features, and how to care for your dry robe.
Whether you're an avid outdoor enthusiast, a surfer, a sea swimmer, or simply someone who loves spending time at the beach, a dry robe is essential to have all year round.
The Benefits of using a Dry Robe:

Superior warmth and insulation.
Quick-drying properties.
Windproof and waterproof capabilities.
Versatility and multi-functionality.
Convenience and ease of use.


Key Features of The Home Dry Robe from Shaws Department Stores:
Our dry robes are Sherpa Fleece Lined, with a quick-drying moisture-wicking material. Offering superior warmth and insulation.
Our dry robes are a high-quality polyester fabric that's both windproof and waterproof, perfect for any weather the day might bring.
Large, oversized hood giving ultimate warmth, comfort and added protection.
Convenience for outdoor enthusiasts.
Full-length zip enhancing robe's functionality.
Adjustable Velcro Straps on the sleeves, with versatile long-length fastening straps to adjust to your level of comfort.
Our dry robes are lightweight, compact, and easy to transport, making them convenient for travel and outdoor adventures.
Tips for Caring for Your Dry Robe:
You might be wondering if it is possible to machine wash your dry robe and the answer is yes. We recommend washing on a gentle cold wash. Machine Wash at 30 °. Do not iron. So not bleach. Do not tumble dry, air dry only.
We also recommend storing your dry robe away properly when not in use to help maintain its quality.
Other Uses for Dry Robes:

For post-workout or gym sessions.
To help stay dry during outdoor festivals and events.
Can act as a changing robe for swimmers or racers.
At Shaws Department Stores we offer a wide selection of Robes, from our classic, best-selling Dry Robes to our Toweling Ponchos and Summer Robes, which are all great for outdoor use.
Our Towelling Ponchos are ideal for use at the beach, they are super soft, made from 100% cotton and quick drying with the absorbent towel material and a large pocket to the front. Available in a variety of colours and sizes.
We also have towelling robes for kids, discover our children's towelling ponchos, here. Helping make trips to the beach or swimming pool, quick and convenient.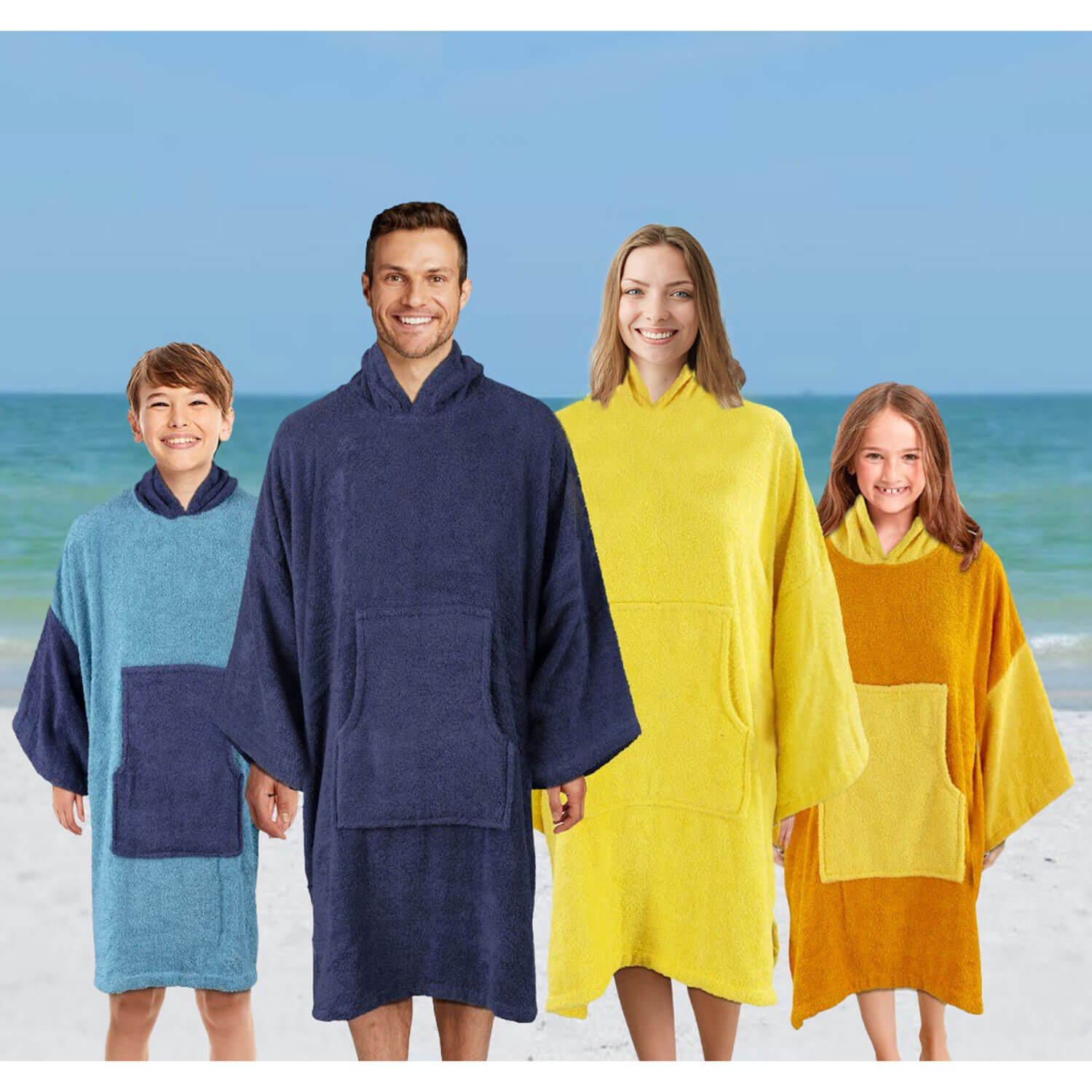 Our Summer Robes are soft and warm, with short sleeves and a hood, made from 100% polyester. This flannel poncho dry-changing robe is ideal for the outdoors and recommend for use during the summer months.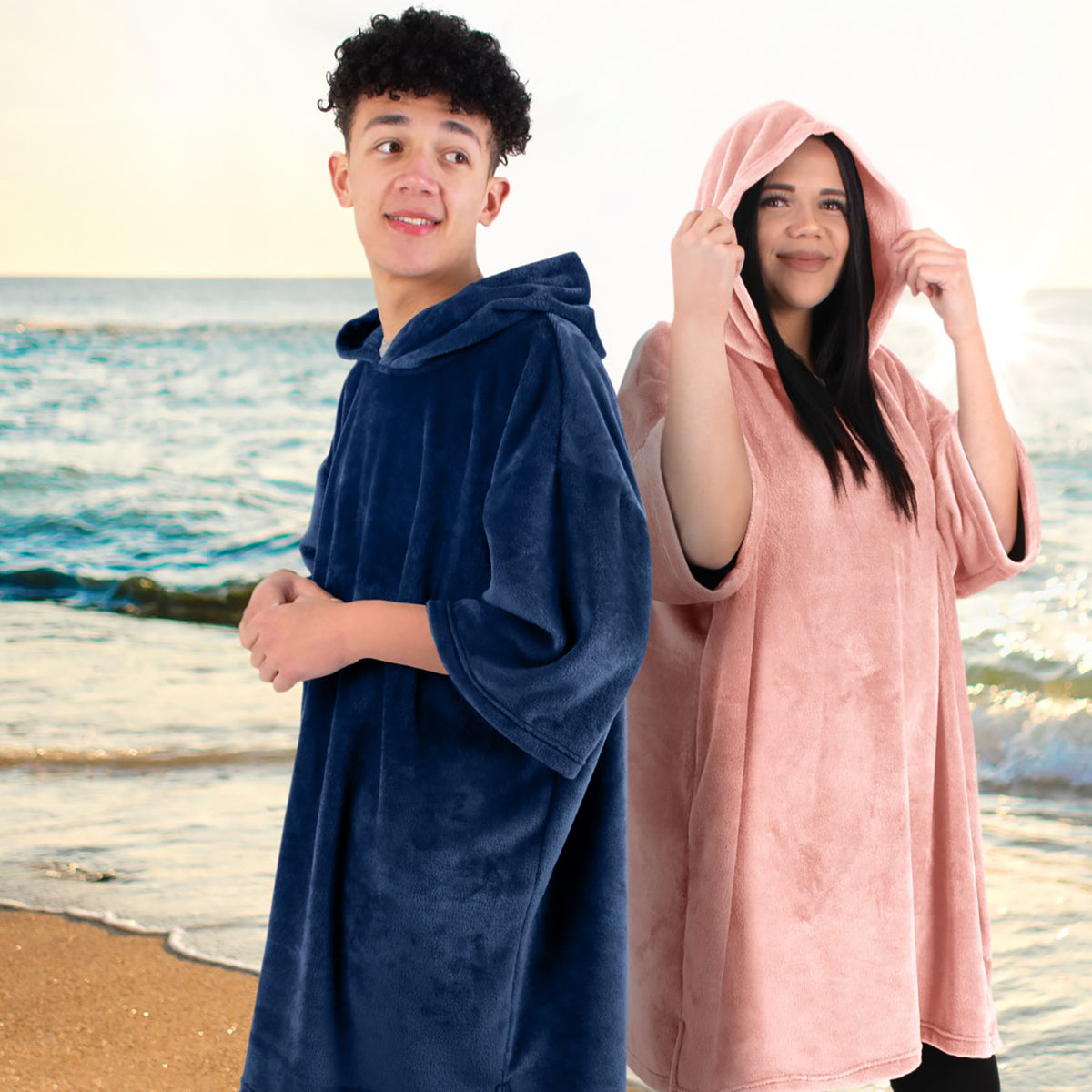 Checkout our latest robe addition, the Great Outdoors 3 in 1 Poncho. This robe is a game changer for any outdoor lovers, as it offers multiple functions to suit your outdoor needs. The 3 in 1 poncho is ideal for camping as it acts as a traditional poncho, blanket for full-body coverage or to sit on and sleeping bag all in one! The poncho can also be transformed into a tarp or shelter to provide a protective cover over your camping gear or create a temporary shelter. Made of 100% polyester material, this waterproof and windproof poncho is guaranteed to keep you warm and dry. The versatility, durability and easy of portability makes it an essential for camping, hiking festivals and other outdoor activates. A great option for Electric Picnic! 
FAQs
Are Dry Robes supposed to be big?
Yes, dry robes are typically designed to be oversized or roomy to provide maximum comfort and functionality. Dry robes are often used by swimmers, surfers, or outdoor enthusiasts to quickly change in and out of wet clothing while staying warm and covered. The larger size allows you to manoeuvre easily while changing and also offers the ability to layer clothing underneath. Additionally, the extra space allows for better drying and air circulation, helping to keep you warm and dry after water-based activities. All our Dry Robes are one size fits all, but can be adjusted to the fit you want with velcro strapping.  
Are Dry Robes worth the money?
Dry Robes are very much so worth the money if you are in the market for one. Dry Robes are a type of outdoor clothing designed to keep you warm and dry. If you are an outdoor enthusiast, then a dry robe could be a game changer for you. Dry Robes are ideal for the unpredictable Irish weather, as they offer quick-drying, moisture-wicking, and insulating properties, which can help you stay warm and comfortable during and after your activities. Whatever you're outdoor activity might be, sea-swimming, camping, outdoor festival, you can be sure that you will be kept warm and dry when wearing one of our Dry Robes.
Our Dry Robes are designed with functionality in mind. Our dry robes come with features like large hoods, multiple pockets, and easy-access zippers, allowing you to change clothes or store small items conveniently. We offer a variety of colours to fit everyone's personal preference.